As required by the FCC, a StarBand certified installation professional must install your StarBand system.
Residential and Telecommuter Systems:
A basic installation for StarBand Residential/Telecommuter systems typically includes:
24" x 36" elliptical dish installation and associated hardware
Installation of roof/wall mount hardware with life-time weather sealant for roof applications
Two 100 feet cables run between the dish and the indoor equipment
Pointing and fine-tuning the StarBand system
Creating or using one existing point of entry into the home for two cables
Installing a wall plate (similar to those used in cable TV industry)
Configuration of the StarBand satellite modem
Testing/activation of the StarBand system
Ensuring your system is up and running on one computer
Customer knowlege of the Starband system
1 Year warranty on installation (Most dealers only offer a 3 month warranty)
Small Office Systems:
A basic installation for a StarBand Small Office system include the above basic installation for Residential/Telecommuter systems as well as the following (Small Office installation can be more complicated and therefore more costly than a residential installation):
Types of Mounts
The placement of the StarBand equipment will vary depending upon the building structure in which the system is installed. Three types of mounting options are available:
Note: Pole and non-penetrating mounts are sold separately by your StarBand certified installation professional.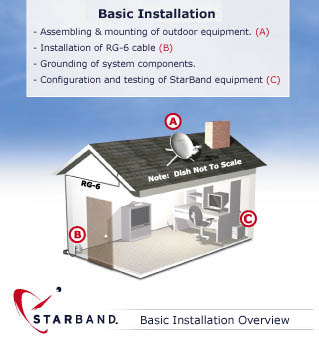 | | | |
| --- | --- | --- |
| | Price | Installation Warranty |
| Basic Professional Installation | $199.00 | 1 year |
Most installations will fall into the basic installation category and do not need other additional installation methods. Other installation fees are listed below.
Additional installations fees:
$75 pole mount of 5-7 feet tall, this includes 20 feet of cable burial

$1 per foot over the included pole mount installation

$75 non-penetrating mount
The installation warranty covers:
Defective cable(s)

Dish alignment caused by failing part / hardware

Diagnosing defective modem or ODU
The installation warranty does NOT cover:
Animals / rodents causing damage or chewing on cable(s)

Mother nature such as lightning, excessive winds caused from very powerful storms